aahh: You released your debut solo album South Side Story back in 2017, but you have been an integral part of the scene in this country for over a decade now. Why was the decision made to wait until you did to release a solo album?
Nter: I wanted to wait for the right time to release the South Side Story, to the point were I thought it was some of my best work. I didn't want to just drop an album with tracks that meant nothing. Every song on South Side Story tells a story and has meaning. The beat and production definitely has to talk to me before I can start to work.
aahh: Your raps reflect life in Hurstville and the experiences you've faced throughout not only your childhood but also the life as you live it now. How important to you is it to reflect your life stories throughout your music and how do you feel about those who just do it to promote an image that may not accurately represent their lives?
Nter: Hurstville isn't so much a ghetto but a really rough and bad neighbourhood. It was the environment we grew up in. The situations we faced as kids and the things we went through and did just to move forward… its important to tell that story. You can't just make this sort of shit up. If you haven't been in that environment it's easy to tell, people just need to keep it real…
aahh: You've been touted as one of the innovators in the local scene especially when it comes to Gutta rap. Where did you draw your influences from when you first started out with the crew Sydney Serchaz. Can you also tell us a bit about that crew and how it came to be formed?
Nter: I drew a lot of influences out of what was really going on and what was really being done on our part back then. Rapping about selling drugs wasn't a huge thing in the Sydney game. Forty was always on that hustle and he was one of the first but Sydney Serchaz told the story of the searcher, the hustler and the thieves story from where it was happening it also highlighted the struggle.
Sydney Serchaz was like a family to me with Skeamo being my brother and Sky-High teaching me a lot of what I know today. At first it was just them two then I came along and from there we just ran with it. Doing some of Sydneys first gutter rap shows and then taking it to a new level.
aahh: As with many rappers in the scene, there seems to be a constant juggle between making music and balancing out all the other responsibilities people face in life such as family and or other work commitments. How do you find dealing with that kind of thing?
Nter: In this day and age you have to work. Music isn't going to pay the bills unless you're Kerser or ChillinIT no matter how many views or likes you're getting. Let's be real all that shit means nothing, at the end of the day I work. I've had the side hustle but I can't pay bills from a jail cell. I manage both as well as I can but if it came to be, it would be my job because its a pay check each and every week.
ahhh: You rep Trap Runners, how did this crew come about? Is there still a Trap Runners album in the works and what can you tell us about that project?
Nter: Yeh, Trap Runners is what it is now. Myself, Merks and one of the other boys, Jake came up with the idea. It started just as a little group, we first called it THE REAL but changed a few things and then we just started repping Trap Runners. The boys were off doing their thing and I was doing my music so we came together under that banner and now we're the number one group in the underground..real…but yeah we are working on an album for later this year.
aahh: You've steadily been releasing new music including the tracks Legacy, and Wrong Turns which dropped just the other day. This is apart from all the tracks you've been featuring on with Sesk and also Merks. Are you currently working on a new album or mixtape?
Nter: Yeah, I try to keep constant music dropping every month or so. Just not too much because then its just overplayed or boring. At the moment I am just looking around for beats for an album. It's not 100% certain but I'm slowly working on it. I am also working on a mixtape, but it will be a gutter tape
ahhh: Will you be working with Sam Mason on your next project. You've both worked closely together over the years including on your debut South Side Story?
Nter: Yer Sam Mason will most problem produce most of the beats, but I will be using some other producers. We've actually been boys since rugrat days.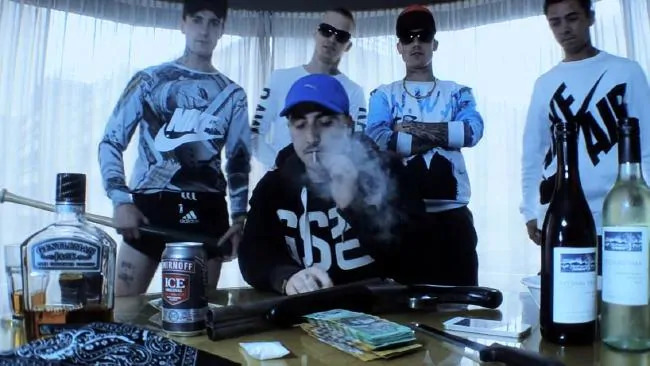 ahhh: What's the biggest change you've witnessed throughout the local scene over the past 10 years?
Nter: The biggest change is that everyone is rapping now but there is no content to their music. No one is telling a story. It's all who is the best fighter or who gets the best clothes. It's fun all that but to tell the story of someone real and to stop show boating with shit that isn't yours in ya clips… you should be able to free the realness.
ahhh: What do you think about rap beef and how people approach it in Australia. We rarely see diss tracks, yet there's always an undercurrent of beef that occurs throughout the scene. Do you have any thoughts on that and what has your experiences been with that?
Nter: This rap beef isn't real at all. It is easy to get on Instagram and talk shit or throw subliminal's in tracks, but how you gonna handle it when its sitting on ya door step or you're out in public and some one pulls up on ya… if you haven't got the heart to carry on with it just go about your business. I try keep outta all that shit these days. I'm too old to be beefing on social media with pensioners.
Source: AllAussieHipHop.com